Mnarani Beach Cottages is a beach resort hotel, located on the northern most tip of Zanzibar Island in the village of Nungwi, next to the old lighthouse. "Mnarani" means "lighthouse" in Swahili.
At Mnarani Beach we offer excellent accommodation suitable for honeymooners as well as families and couples looking for a wonderfully relaxing break. After climbing Mount Kilimanjaro or taking a lengthy safari trip, this is the ideal place to relax. At Mnarani you will be able to develop the art of doing nothing on a beautiful beach. However, there are also plenty of activity available, from spectacular snorkelling, diving, fishing and sailing to many interesting half and full day excursions on the island of Zanzibar. And although being very peaceful and secluded, our hotel is in walking distance to the lively village of Nungwi.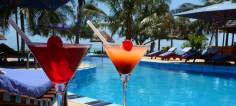 Mnarani Beach Cottages
Our fully stocked bar offers a variety of cold beers, selected wines, delicious cocktails and tropical juices. You can also borrow a selection of board games such as bao, the traditional game of Zanzibar. Don't leave Zanzibar without having tried a game or two! Alternatively you can try your hands at a round of darts or watch sports on our satellite television. We are situated on the north eastern tip of Zanzibar Island; about 60 minutes drive from Stonetown at the village of Nungwi.