The Umbwe route is the most demanding route due to the direct approach, although some say it is the most beautiful route on Kilimanjaro. This little climbed route begins at Umbwe Gate and ascends the Western side of the mountain until it reaches Barranco camp. From there it joins the southern circuit and the summit ascent is via the Barafu hut route. Descent is via the Mweka route. This is the most physically demanding of all the routes and should be attempted in no less than 6 days. These statistics are based on the average summit success rate on Kilimanjaro. Although some routes have a better success rate than others; there is still no guarantee that you will summit Mount Kilimanjaro.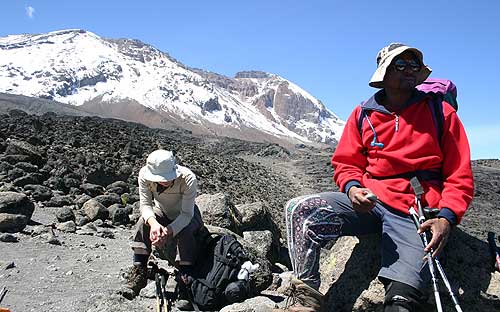 Mount Kilimanjaro Umbwe Route
Be one of a few fortunate people to spend a night in Africa's largest volcano. This option is highly recommended, as this will be the only opportunity to get close to the beautiful and fascinating glaciers of Kilimanjaro and to be able to visit the ash pit. The Umbwe route has a well-deserved reputation of being the most challenging route on Mount Kilimanjaro. Approaching from the south, the Umbwe route is a short, steep and direct climb. The route is considered to be very difficult, taxing route - one that should only be attempted by strong hikers who are also confident of their ability to acclimatize to altitude. Despite its reputation as the toughest trek, the Umbwe Route is still a non-technical climb. Taxing, but not technical.