Visiting the Ngorongoro Crater is one of the highlights to many safari-goers. The crater is roughly 20 km/12 mi wide and 600 m/2,000 ft deep, and its floor is home to a rich and highly concentrated wildlife. The crater floor also has one of the highest carnivore densities in the world. Lions, cheetahs, hyaenas and jackals are commonly seen, while leopards, servals and bat-eared foxes may be seen with some good luck. The world's largest unbroken caldera, it is often referred to as the 'Garden of Eden'. The rich pasture and permanent water of the crater floor shelters a large population of animals. In fact, the crater floor is one of the most densely crowded game areas in the world and is home to about 30,000 animals.

Ngorongoro National Park
Unbelievable wildlife viewing undertaken in the most picturesque settings are the hallmark of this wonder of the world. The Ngorongoro Crater also has a vast array of wildlife with big herds of Wildebeest and Zebra along with Rhino, Buffalo, Elephant, Warthog, Hyena, Eland as well as plenty of plains game and all the big cats, Lion, Leopard and Cheetah. There are also lots of colourful flamingoes and a variety of other water birds around the soda lake on the crater floor. The Male Lions in Ngorongoro Crater are a photographers dream with massive black manes and huge powerful bodies. With such a high concentration of predators in such a small space it is not uncommon to see Cheetah hunting Gazelles, Lion and Buffalo interaction as well as Lion and hyena scrapping over a kill.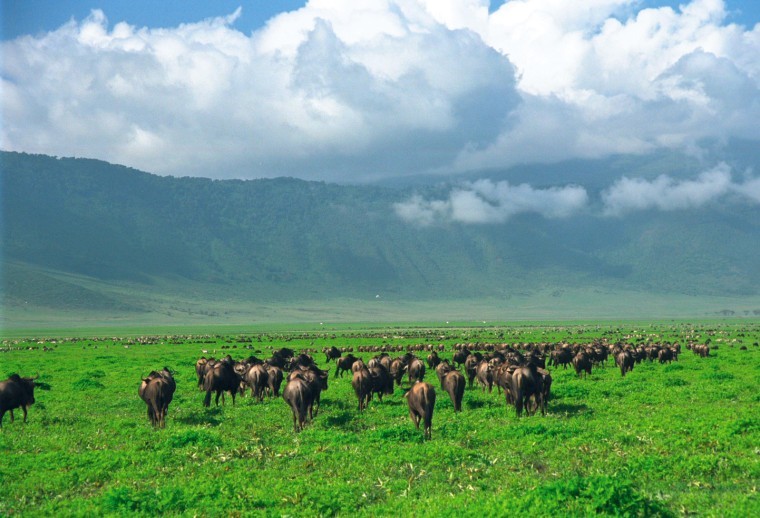 Ngorongoro National Park